Dry Ice Blasting Machine WT-800A
High quality powerfull Dry ice cleaning machine for industry field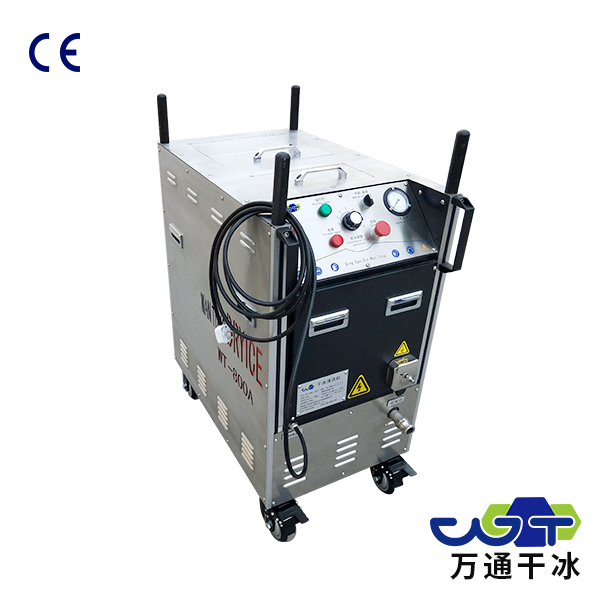 | | |
| --- | --- |
| Motor power | 1.0kw |
| Power supply | 220V-240V or as required |
| Air Consumption | ≥3m³/min |
| Dry Ice Consumption | 0.1-3.5 kg/min |
| Hopper Capacity | 30kg |
| Air Hose length | 8m |
| Blaster Hose Length | 6m |
| Overall Dimension | 1000x520x1180 mm |
| Weight | 160kg |
What is Dry ice blasting?
Dry Ice (co2) Blasting is a fast, easy and cost-effective cleaning technology that uses dry ice pellets (solid CO2) propelled at supersonic speeds to clean surfaces without damaging equipment or creating secondary waste. This method allows for the materials to be used to clean delicate molds and machinery or heavy industrial equipment with ease.
Dry Ice Blasting is a dry, non-abrasive cleaning process free of chemicals and other solvents that is environmentally friendly while leaving virtually no residual by-products behind.
Dry Ice Cleaning Machine WT-800A Features
Obtained appearance patent and utility model patent with new technology ;
Full stainless steel 304L shell, durable, long service life ;
Equipped with more imported accessories,high-end configuration, quality assurance ;
Unique feeding system, more material saving than ordinary machines;
Powerful cleaning with bigger Japanese motor , efficient and practical.
Intelligent design, one-button dumping function is available , as below video display:
Example case
Dry ice blast cleaning aluminum alloy wheel die casting molds Before and After
Spary gun accessories
1* compressed air hose, 1* ice spray hose, 1 set of spray gun with nozzles optional , power supply control line, etc.