5 sets of Wantong dry ice blasting machine are ready in our factory !
One month ago we received an order from Sinotruk Group-Jinan Power Department require the dry ice cleaning machine to maintain their molds . After manufacturing , installation, debugging and inspection, these machines and dry ice containers are ready for shipment today , 24/Sep./2021. 
Jinan Power Department is a specialized engine production unit under Sinotruk Group, which has a great demand for cleaning and maintenance their casting molds.  By comparing several dry ice blaster suppliers, customer finally choose us because of our quality product and good service . 
We recommend our WT-750B Dry ice blasting machine, 750W, widely used in the field of industrial cleaning, to maintain equipment, mold, boiler etc., can remove all kinds of oil, dust, carbon, etc. Dry ice blast cleaning is high efficiency, with good cleaning effect , and WT-750B is an economic and practical choice . 
What is the effect of dry ice blasting ?
About the dry ice blast cleaning effect , it is based on three principles:
Thermal effect

: Dry ice pellets temperature is -79°C / -110°F, so the impurities cool sharply due to the different coefficient of thermal expansion, the impurities will shrink and loose.

Movement effect : When leaving the spray gun nozzle,the dry ice pellets get a high kinetic energy, and then hit the impurities at a high speed which is almost equal to the speed of sound.
Sublimation effect/volume expansion: The dry ice particles are ejected onto the surface of a fragile impurity, and immediately sublimate into a gas upon contact. It rapidly increases in volume by about 700 times, helping to remove pollutants.
Dry ice blasting Cleaning effect for different molds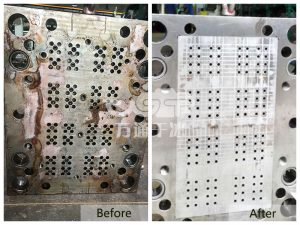 An insulated dry ice storage box is needed for dry ice cleaning
When a dry ice blasting machine is working , it needs 3mm dry ice pellets as blasting medium .
WT-750B hopper capacity is about 25-30kg , but a cleaning project need large quantity of dry ice pellets . So we need some dry ice insualted containers, they can storage and keep dry ice for a long time to slow sublimation .
We recommend WT-ICO300 , capacity of 300L/250kg 3mm dry ice pellets , it is a usual type during dry ice blasting operation . The choice of most customers .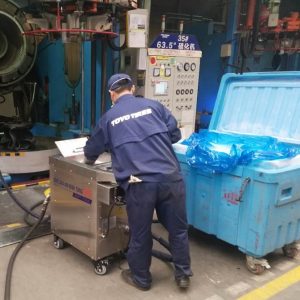 Do you have questions about dry ice blasting machine ? Welcome your inquiry .