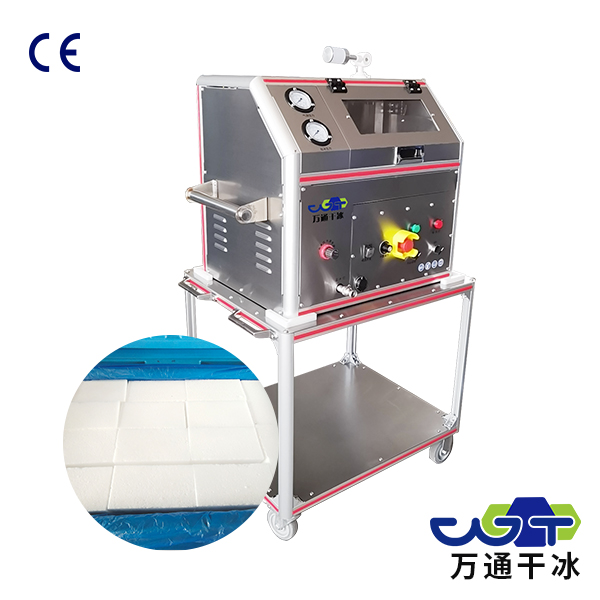 WT-CC400 Dry Ice Blaster Machine Photo
Why make this type of dry ice blaster ?
In many industrial products, injection molding process products occupy a large market share. During the production process, except the general production equipment and injection molds need cleaning, there are some high-end products need fine processing, such as deburring , deflashing , and to  remove foaming glue .
Haier Group is a well-known domestic appliance manufacturer, positioned as the world's leading brand of electric appliances. Through brand strategy, Haier group provides solutions for smart family life, including air conditioners, washing machines, refrigerators and so on . Our company provides dry ice materials for its dry ice cleaning service all the year round. In recent two years, due to the failure and aging of the original cleaning equipment, new equipment is needed to replace it, so we independently designed, developed and produced this new model-WT-CC400 B to meet the fine requirements of their high-end products. 
What are the features of it ?
The blasting medium is dry ice block , temperate cleaning ;
Unique intelligent cutting device, once shortage of material automatically stop;
Separately equipped with a warning light to inform the hopper allowance;
Equipped with tools shelf to provide enough storage space;
Stainless steel body, mixed aluminum edge and frame, lightweight but strong;
Suitable for high standard cleaning require like deburring, defalshing, car maintenance, precision electronics, etc. Maximum protection from damage to object surfaces.
And it is also suitable for cleaning cars , fine cleaning , will not damage the surface that you want to clean . Here is a reference video as below :