2022 , this winter the most exciting thing is the ongoing Beijing Winter Olympics which will be the first carbon-neutral Olympics.
The Olympic spirit of "mutual understanding with a spirit of friendship, solidarity and fair play" has not changed in the past century. What has changed is the continuous innovation and low-carbon green concept centering on the Olympic spirit.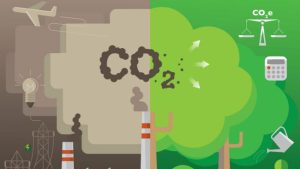 China hosted a Green Winter Olympics, showcasing its leadership in green technology. The measures taken by the Beijing Winter Olympics to reduce emissions are far greater than those taken at previous Winter Olympics, and while the reduction is only a drop in the ocean of China's total emissions, but it proves that it is possible to achieve carbon-neutral across a wider range of events, according to an article in Nature.
Low-carbon management runs through the whole process of preparing for the Beijing Winter Olympics.
1. At the Winter Olympics, good visibility allows athletes to see from the venues to the mountains surrounding Beijing.  Beijing's air quality has significantly improved compared to a decade ago. This is the result of China's aggressive efforts to combat air pollution in recent years.
2. The Nest, Water Cube, Wukesong and other existing Olympic venues will be reconstructed and the new venues will reduce their impact on the environment from the design source. The Ice Ribbon – National Speed Skating Stadium became the world's first ice production system using carbon dioxide transcritical direct cooling system, with carbon emissions approaching zero.
3. All venues for the Winter Olympics will meet green building standards and use 100% of their regular energy from green electricity.
Energy-saving and clean energy vehicles accounted for 84.9% of the total number of guaranteed vehicles, the highest ever. In the opening ceremony to "no ignition" instead of "lit", to "small fire" instead of raging fire, fully reflects low carbon environmental protection. It can say that this is a new starting point of the green Olympics.
4. By using a large amount of photovoltaic and wind power generation, local governments donating carbon sinks for forestry, and enterprises sponsoring and verifying carbon emission reductions, the Beijing Winter Olympics has successfully fulfilled its commitment to achieve carbon neutrality.
This green, shared, open and clean Winter Olympics is a good window to prove our ability and determination to achieve carbon peak by 2030 and carbon-neutral by 2060. We will continue to contribute Chinese wisdom to the world's joint response to climate change.